Eraclea Mare
The Territory
Eraclea Mare, called "the Green Pearl", is a seaside resort between Jesolo and Caorle and overlooking the Venice Lagoon.
Located in a natural oasis just a few kilometers from Venice, the city has been awarded for the past several years the European Blue Flag, confirming the perfect place for a quiet and relaxing holiday. Its clear sea is suitable for beach activities for the marine tourism and its fine sand beach three kilometers long is ideal for long walks by the sea. Behind the beach there is the pine forest. In warmer times of the day the pine forest offers a welcome respite from the heat and allows you to relax and breathe in the sea air that blends with the resin scent of pine trees. Numerous cycle and pedestrian routes give direct access to the beach.
In summer, the coastal dunes covered by tamarisk trees attract visitors with a spectacular blend of colors between gold sand, green vegetation and pink inflorescences. Towards the Piave River are the Laguna del Mort, a nature reserve of Community interest, and Mariclea, a small equipped marina for recreational water activities. The beach, which stretches for over a kilometer, is clean, equipped and satisfies the main quality and safety criteria for the tourist: the beach services are efficient, with access facilities for the disabled; They are also operating on sea rescue and first aid. By day you can bask in the sun at the beach or play beach volleyball, windsurfing and sailing. In the evenings, you can sample delicious cuisine at the many restaurants and clubs are located in the main streets. The town center is full of modern and comfortable accommodation, hospitality and friendliness typical of the Veneto are able to satisfy even the most demanding tourists.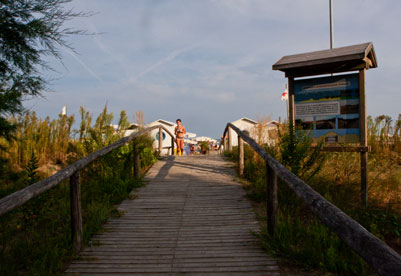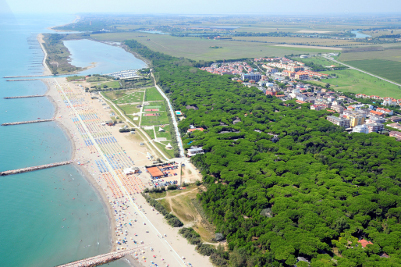 At night the center becomes a pedestrian area where you can stroll and shop in the stores.
The surrounding areas also have local farms and restaurants where you can taste the flavors of authentic Venetian cuisine. In addition to activities related to summer holidays at sea, full of creeks and natural channels territory you can take boat trips and excursions to the huts, to exercise various types of fishing, engage in bird watching and horse riding. Also for culture lovers, thanks to its strategic geographical position, you can visit cities like Venice, Portogruaro, Concordia Sagittaria, Aquileia, Treviso, Padua, Vicenza, Verona and Trieste. And for shopping and nightlife, there are Jesolo, Treviso and the new Designer Outlet in Noventa di Piave.
Eraclea Mare, perfect destination for families and children, is the ideal place to spend a holiday in total relaxation, immersed in the beauty of nature and a few kilometers from the main cities of the Veneto.