Bicycle hire in Eraclea Mare?
Live a unique experience between sea and nature
Eraclea Mare, a well-known seaside resort on the Venetian coast, is the ideal point for those who want to undertake a bicycle itinerary immersed in the wonders of Venetian nature.
Jesolo Ambient Bike offers a guide to discovering the more than 150 kilometres of cycle paths in the city.
Six routes studied and designed to integrate the tourist offer and give the opportunity to discover the area and its features while being in direct contact with nature.
For safe and responsible cycling tourism, the guide provides precise information on assistance centres, road signs, farms that can be reached by bike, lots of advice on safe cycling and, finally, all the advantages of cycling.
The project is part of the programme envisaged by the Veneto Region for the development of the Rete Escursionistica Veneta (R.E.V., or Venetian Excursion Network), for which the signs and road signs used to indicate the itineraries are those envisaged by the Veneto Region guidelines. The road signs for cycling routes also have two functions: to guide tourists along the route and to promote the initiative.
Bicycle hire for your holiday, whether short or long term, for day trips or weekends in the Eraclea Mare, Caorle, Jesolo area.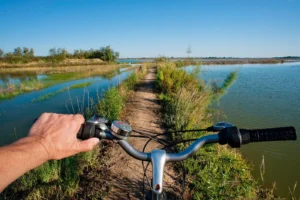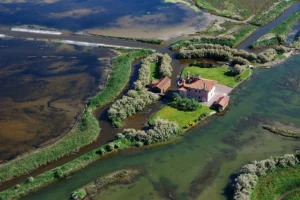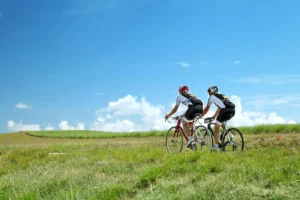 Advice from Agenzia Universo Vacanze on bike and e-bike hire in Eraclea Mare with a wide range of bicycles and mountain bikes for adults and children.
You will also find accessories such as child seats and trolleys.
ACTIVITY SPORTS ERACLEA – IN STORE HIRE
MOUNTAIN BIKE HIRE
E-BIKE RENTAL
CHILDREN'S TROLLEY RENTAL, PET TROLLEY
ELECTRIC SCOOTER AND SKATEBOARD RENTAL
VIA LIVENZUOLA, 1 ERACLEA MARE (VE)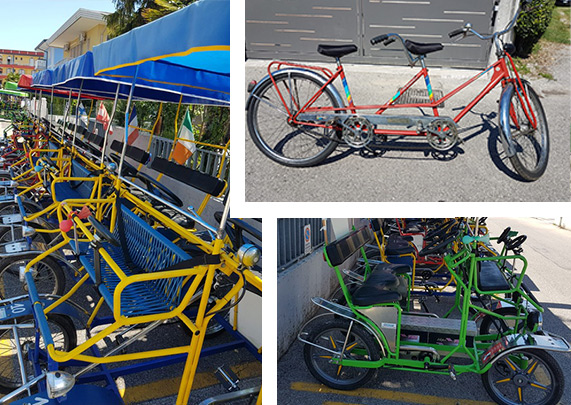 HIRE FERRO DANTE
RENTAL OF CITY BIKES, MOUNTAIN BIKES, RICCIALS ALSO WITH PEDAL ASSISTANCE
NEW AND USED BICYCLES SALE, ADULT CHILDREN
REPAIR CYCLES
VIA DELLE TUIE, 22 ERACLEA MARE (VE)