Holidays between sea and pine forest
Knowing Eraclea Mare
In Eraclea Mare, a tourist resort not far from Venice, Universo Agency puts at your disposal for apartments, holiday villages, bungalows and apartments equipped with all comforts, surrounded by green and in the pine forest that makes it unique and fascinating town.
The presence of the pinewood makes the climate of Eraclea Mare particularly healthy in all seasons, especially during the summer the air is always fresh and fragrant with the pine resin.
During the day on the beach...
…you can alternate sunbathing and sea with the practice of sports: sailing, windsurfing, take part in sports tournaments bowls, beach volleyball and organized games.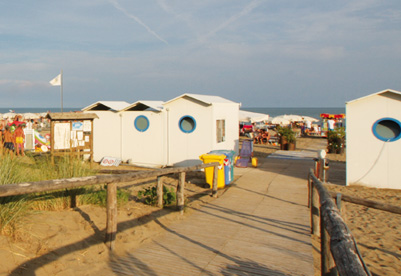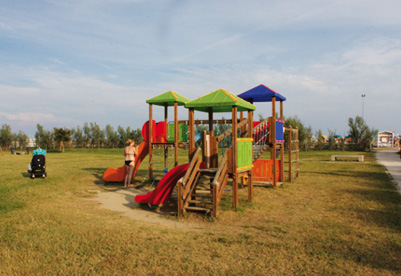 For days alternatives to the beach
In addition to bathing in the sea , you can go horseback riding in close contact with nature, beautiful hiking and cycling along trails that wind in the Veneto countryside, play tennis or take advantage of the fitness trail that runs through the heart of the pine forest.
Evening in Eraclea Mare
With its pedestrian area, it allows for pleasant walks along the main street the many shops, bars, restaurants, pizzeria and ice cream parlors. International orchestras, theater groups, film shows, are just some of the fun proposals to choose . The night of the 15th August it is always spectacular with fireworks on the beach that are part of the tradition of Eraclea Mare.
Equipped with a small dock
Mariclea is a dock for pleasure craft that can accommodate up to two hundred moorings, from which you can reach the natural ecological reserve of "Laguna del Mort" to practice bird-watching and hiking.
The children are welcome to Eraclea Mare
Particular attention is paid to families and children  cwhom they can play in big equipped spaces near the sea, between games and equipment dedicated to them, while parents can relax on the shoreline.
Periodically at Eraclea Mare and surrounding area events are held, traditional festivals and sports events of interest to tourists. In the area there are also permanent exhibitions and gastronomic points to introduce tourists to the typical products of the territory.
Venetian culture: a unique heritage